From the legendary Cap Anson to Joe Maddon 140 years later, the Cubs have had more than their share of unique personalities at the top step of the dugout.
Hall of Fame gentlemen like Joe Tinker, Johnny Evers, Frank Chance (yes, that Tinker to Evers to Chance group), Rogers Hornsby, Joe McCarthy, Gabby Hartnett, and Leo Durocher all had their tenures as north side skipper.
Of course, only in Chicago could a manager lead his club to the first World Series title since Chance was at the helm, end the honeymoon before it even began, become a polarized figure and turn into non-surprising news when his contract wasn't renewed nary three years later, right?
But thanks, Joe. Seriously and sincerely.
Thus begins the search for who will lead the Cubs starting with the 2020 season.
While the list is pretty short at this stage, the purported front runner, David Ross, is somewhat polarized himself. But should he be?
If strictly comparing resumes to other candidates like Joe Girardi, Mark Loretta and Joe Espada is the main factor, then Ross literally does not compare – he simply hasn't coached before. Despite having a reputation for most of his playing career as a coach-on-the-field for his knowledge and quick thinking, he has never held an official seat. Much less one that is on par with someone like Girardi, who has won a World Series as a manager.
But does that really matter?
Aaron Boone had no managerial experience when he took over the New York Yankees in 2018. They won 100 games and reached the ALDS. This year they won 103 and are currently in the ALCS.
Alex Cora was a first time manager when he was handed the reigns of the Boston Red Sox in 2018. They won the World Series.
Bob Brenly led the Arizona Diamondbacks to a World Series title in 2001 in his first season as manager.
The point is, a first-time manager finding success is far from unprecedented or unrealistic.
This is not to advocate Ross for the job. This is saying why he could, not should, be the choice. I always liked him as a player and I believe he will make a fine skipper some day, but I certainly have no crystal ball that is locking him in to the Cubs dugout for next season.
All the candidates are sound.
But has this been boiled down to Girardi vs. Ross?
Experience and success-wise, Girardi has no competition here.
There are some other intangibles that may put Ross ahead of the pack, however. One inherent issue with experienced coaches, especially former managers, is the pushback on baseball-related issues they can give to the front office. In today's sabermetric, analytics-driven game, the old guard baseball guys tend to have some strategic friction with their bosses. Reports of this happening with Maddon and Cubs president Theo Epstein and general manager Jed Hoyer were surfacing as far back as the Cubs' magical 2016 championship season. It is unlikely the Cubs brass will want to invite similar issues back with their new manager.
Furthermore, the actual role of field manager has been reduced somewhat in this modern era. With a lot (some say too much) of data available, many game decisions are made by the front office and crucial personnel – bench and pitching coaches to be exact – to help the manager along.
Youth, money and control are other considerations. Strong hearsay and between-the-lines rumblings indicate that Epstein/Hoyer may want a younger, more passive type of manager who won't push back with them (too much) on baseball-related decisions, and someone they won't have to pay a large salary to. Someone like Ross would check all those boxes, where Girardi, although still fairly young, would not. With a World Series title, nearly 1,000 wins and experience managing in a major market under his belt, it is highly unlikely that Girardi would be the pseudo "Yes Man" that the Cubs brass seems to be searching for. They'd also have to pay him a lot more money than any other candidate.
My initial reaction a couple weeks ago was that Loretta, the current Cubs bench coach would be the practical – albeit boring – selection. Added to which I figured Ross' interest would be a token interview just to appease Cubs fans, and that maybe he would be brought on as Loretta's bench coach at most. It would seem now, however, that Ross is the likely target, and that Girardi, ironically, has become the token interviewee. 'Grandpa Rossy' also has plenty of marketability to consider. The fans adore him, and he has an endearing personality and sense of self-deprecating humor (there was that whole Dancing With the Stars thing, after all) that automatically lends itself to the role. How that may translate into success on the field would be anyone's guess.
The other blowback from Cubs fans about Ross is whether or not he is still too close to a number of current players. It is well known that his former teammates Jon Lester, Anthony Rizzo and Kris Bryant among others are some of his best friends. Would he be able to put that aside and act managerially? Would he be able to relate to them no longer as a colleague but as their in-game boss? The answer to that, I believe, is yes. Something that is often forgotten by Cubs fans is the 'Grandpa Rossy' nickname that Bryant and Rizzo bestowed upon him was more than just a friendly jab at an old backup catcher in his final season of his playing career. It was a sarcastic nod at the fact Ross could be a prick – in a good way – for his ability to light a fire under the players and get their attention. The youngins on the club thought he was being a curmudgeonly old man. They realized after '16 that he actually always had a point.
If he can continue to do that, and keep his sharp baseball mind in-tune, then maybe Ross would be the right guy after all.
Or maybe it'll be someone else, in which case you can disregard everything you just read.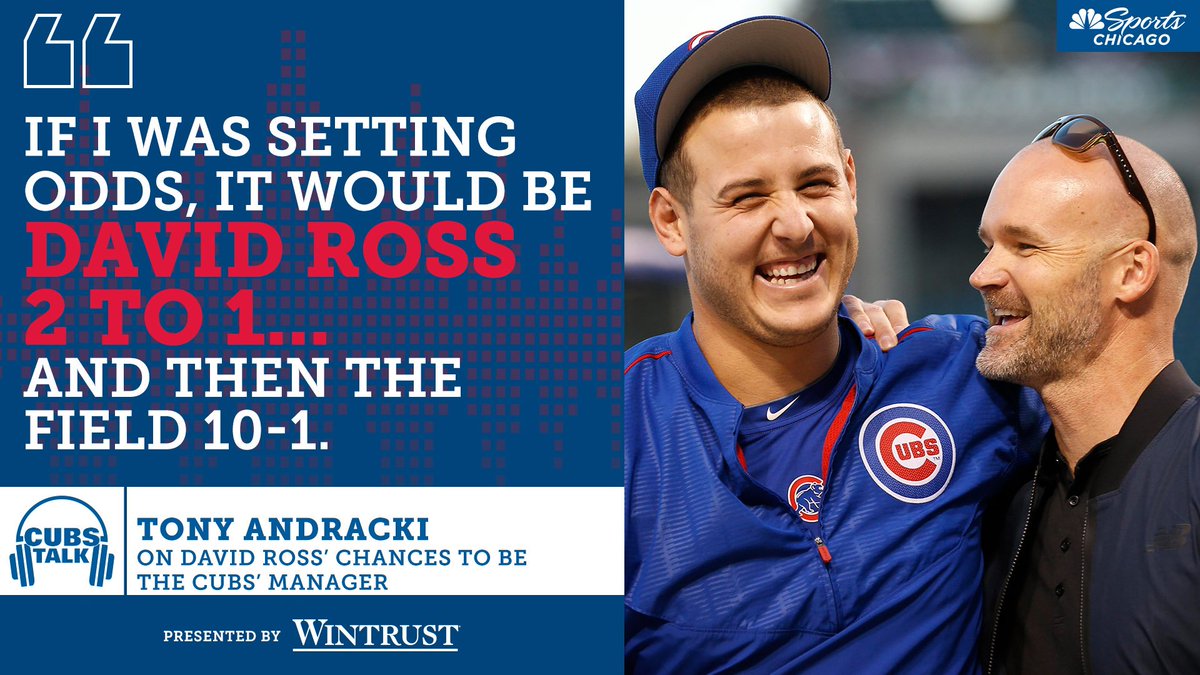 Photo credits: https://twitter.com/NBCSCubs/status/1179075357405859840
https://www.en24.news/2019/10/mlb-2019-joe-girardi-and-david-ross-candidates-to-take-command-of-the-chicago-cubs.html