Baseball is the weirdest of all games, that much we know. It also provokes intense amounts of superstition, sometimes to ridiculous levels, in players, coaches and fans alike. At times like these, or when any sort of streak is apparent, it's difficult for some of us not to stop and wonder, "hmm…"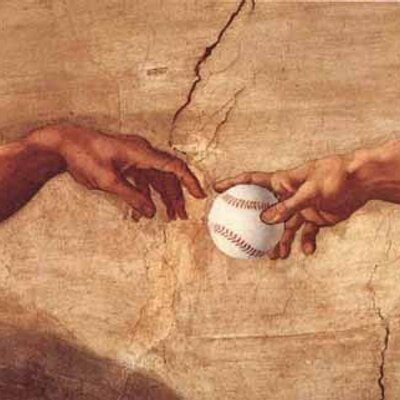 With the red hot starts for both the White Sox (15-6 and the best record in the AL) and the Cubs (15-5 and the best record in the NL), naturally much "what if" chatter, often of the absurd variety, has begun. But certain situations have arisen during the course of this otherwise normal business day, however, that are likely pure coincidence, but peculiar nonetheless. For me personally, those who know me understand that my superstitions and awkward OCD routines are borderline lunacy. I may reach far in connecting my illogical-logical dots, but when sequences like this happen, I skypoint to the Baseball Gods with a knowing "I hear ya, fellas!" Take today for example:
Several callers, texters and tweeters to AM 670 The Score this morning were posing questions like "Are these Sox for real?," "What if the Cubs and Sox were to meet in the World Series? Would the city survive?," "Could we have a repeat of 1906?" and so on. Nothing unusual there, but keep reading…
At a routine meeting, it became known that my client is the great-niece of former White Sox catcher Billy Sullivan, who played in the 1906 World Series as part of the infamous "Hitless Wonders" against the Cubs. I've known this client for years and never knew this amazing fact. Billy's son, Bill Jr., also had a long MLB career and played in the 1940 World Series, becoming the first father/son duo to play in the Fall Classic. The rest of her family are Cubs fans and recently posed the question, "what if they play each other in the…" oh stop me, you get the idea.
At a quick glance, there are downright eerie comparisons between Sullivan's career and that of current Cubs veteran catcher David Ross. Eerie as in, they're virtually the same player. (More on this in an upcoming article.)
After my meeting, the managing editor in my office (and a huge Mets fan), asked me if I think the Sox are for real and would the city survive if there ever was a Cubs/Sox World Series? He did not pay attention to the radio station chatter that I did this morning, or knew of my meeting. It was a random conversation. By this time I was literally laughing.
The Cubs currently are on pace to match or exceed the 1906 Cubs .763 winning percentage, while the White Sox current team batting average is right on pace with their 1906 counterparts, hence the nickname "Hitless Wonders." Neither of these is likely to happen, but it's a fun comparison nonetheless.
Am I suggesting that the stars are aligned, that "this is the year" (a battle cry that this Cubs fan has grown to completely despise), or that both teams are destined for a 1906 rematch in the 2016 World Series? Of course not. It's only April after all. But in the here and now, both teams are playing strong, inspired baseball and winning, at the same time, and at a pace not seen in decades.
Granted, these little situations are hardly connected, except for their coincidental nature amid much excitement for both teams. But with my acknowledgement of the sheer bizarre, and belief that some driving, external, ethereal force contributes to the strangeness of our pastime, I wonder, a little bit, if the Baseball Powers-That-Be are smirking.
Just a little.